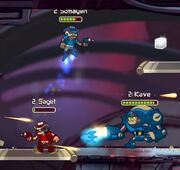 Bots are AI-controlled Awesomenauts used by the game to form a full three-member team when there are no players available or when in practice mode.
In online play, they are replaced when a player joins the match and return if a player leaves or disconnects.
Currently, only four Awesomenauts have fully functional bots: Clunk, Froggy G, Lonestar and Leon. However, in Patch 2.6, it will introduce nine more bots for the primary game which include Ayla, Coco, Genji, Gnaw, Raelynn, Skree, Admiral Swiggins, Ted McPain, and Vinnie & Spike. As well as updated versions of the original four bots.
Bot Attributes
Bots have special attributes (or "cheats") to help them against actual players, such as increased health, reduced cooldowns and more Solar. These cheats are activated upon the bot death and get stronger after each subsequent death.
On the score screen, bots will have a "(Bot)" next to their names, but not above the actual in-game health bar. This helps players tell them from other players that use (Bot) next to their names (which will show up above the health bar).
When playing a practice match, it is possible to choose the bots' difficulty setting. There are six different levels to choose from.
In a private match the host is able to choose the bots's difficulty, the other players are only able to see which setting the host choses.
As of Patch 1.21, bots drop 30% less Solar upon death, except in practice and private matches.
Bot Names
Adam
Aerlfredith
Anthony
Bamibot
Bart
Claire
Clint
Dane
Dazno
Denny
Dion
Drizzle
Elsie
Eric
Fabinaab
Glitch
Gorbear
Japster
James
Jeffrey
Joosty
Kave
Kay
Kewn
Machiel
Martinos
Max
Mitaki
Mitcho
Naas
Nacho
Nerderella
Olikabrabto
Raey
Ralphinator
Rob
Ronma
Ryzaien
Saget
Sander
Slippy
Somayeh
Spitfire
Stefan
Ted
Thanarys
Thomas
Tim
TmT
Tuur
Viper
Xin
Yorick
Zerial
Trivia
Various bot names are a reference to Ronimo Games' team members. (Such as Ralphinator being a reference to Ralph Rademakers, Fabinaab being a reference to Fabian, etc.)