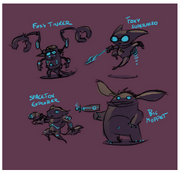 Penny Fox is the 4th upcoming 'naut for the incoming Awesomenauts: Starstorm Expansion as the $290,000 stretch goal of Ronimo Games' kickstarter project. This goal has been reached and the 'naut is under development.
Not much is known about this character as it is in a very early stage of design, but a few bits of information were shared by Ronimo Games staff members.
Information
Ronimo Games members are working with the idea of a combo system for this character. Taken from the kickstarter page: "Blast enemies to rack up Combo Points that can then be used to empower your abilities! You have to decide on which skill to empower though, because your racked-up points will be reset once you've used 'em."
Penny Fox is confirmed to be a female character (and as such has been nicknamed "Foxy Lady" by community members).
Ronimo expressed interest in wanting Youtube commentator Dodger Leigh to voice "Foxy Lady". This was confirmed on the Ted McPain livestream.
According to the Starstorm Roadmap, this 'naut is set to be released after Sentry X-58, but before Skree, with the estimated release date set at Q2, 2014.

Contrary to the Starstorm Roadmap, the Ted McPain livestream revealed that Foxy 'naut is scheduled to be released after Ted McPain and not after Sentry as originally intended.